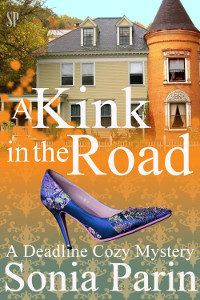 A Kink in the Road
A Deadline Cozy Mystery Book 7
---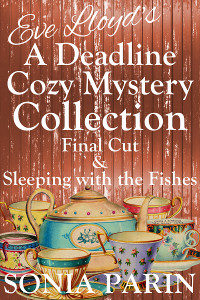 Coming Next:
Eve Lloyd's A Deadline Cozy Mystery Collection 3
Final Cut & Sleeping with the Fishes (Books 5 & 6)
Amazon
---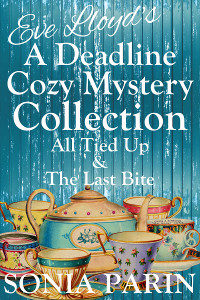 Eve Lloyd's A Deadline Cozy Mystery Collection 2
All Tied Up & The Last Bite (Books 3 & 4)
---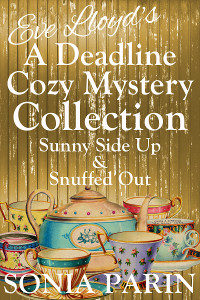 Eve Lloyd's A Deadline Cozy Mystery Collection 1
Sunny Side Up & Snuffed Out (Books 1 & 2)
---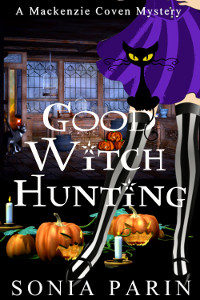 Good Witch Hunting
A Mackenzie Coven Mystery Short
Halloween is just around the corner. The Coven Board of Compliance has paid Lexie a surprise visit and found her abode lacking. She has been issued with a first and final notice to pull her socks up. Failing to comply could cost her in ways Lexie can't even begin to imagine. Suffice to say, if the Coven is involved, it can't be good…
She can't risk being sanctioned. But who has time to buy a cauldron when someone is out to kill witches and her favorite store's resident Oracle has warned her of danger?
---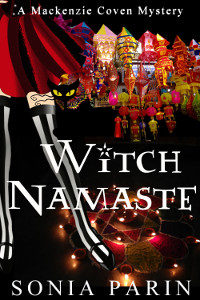 Witch Namaste
A Mackenzie Coven Mystery Short
When Lexie and Luna meet their new neighbor, Aisha, they both instantly fall under her charm, but her happiness is only a thin veil for what lies underneath. Aisha is convinced she's cursed…
She's already lost two fiancés right before Diwali, the Festival of Lights. When Aisha loses another fiancé, Lexie knows it can't be a coincidence. Trying to find the person responsible for the curse is no easy feat, especially when the Monkey God appears in the middle of her sitting room. He's a hard taskmaster and insists Lexie has been chosen to champion the cause and must, therefore, train.
Lexie must learn to meditate, levitate and cast a few spells, but she's running out of time and it might not be enough for her to do battle with the menace lurking inside Aisha. She must find the person responsible for Aisha's curse or risk the scales tipping in favor of darkness and evil.
---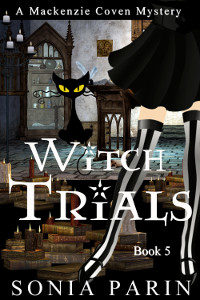 Witch Trials
A Mackenzie Coven Mystery – Book 5
A complaint has been lodged against Lexie and her feline companion, Luna and they are forced to attend a therapy session. The powers that be have laid down the law. Now, Lexie and Luna are on their way to Gainsborough Mansion to participate in a team-building program. In no time, they are both wishing someone would turn up dead…and in no time, their wish comes true. Someone has been compelled to commit murder. What if magic had something to do with it? In particular, the fabled Hensley magic…
They enlist the assistance of one of the O'Rourke detectives. To date, they've all been pleasant, but now… their luck has run out. Lexie has her work cut out for her. She must prove herself capable of unmasking the killer before any more guests turn up dead… and definitely before Luna takes a bite out of Gerard O'Rourke.
---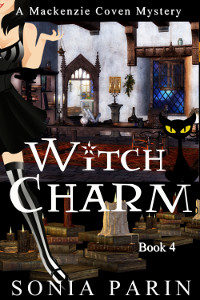 Witch Charm
A Mackenzie Coven Mystery – Book 4
The Lauriston Academy for Ladies & their Feline Companions dress code: White dress with puffy sleeves. Feline Companions: non-optional white.
Lexie is off to the Lauriston Academy, her cousins' alma mater, to investigate a case of theft. To her dismay, there is no way around the school's dress code. To her even greater dismay, soon after she arrives, she and her feline companion, Luna, come across a dead body.
Lexie has to live off contraband food, spout tongue twisters every hour on the hour, and avoid classes at all costs. Add to that her feline companion's existential crisis and Lexie is ready to start pointing the finger of blame at just about anyone.
If she doesn't find the killer soon, she risks ending up in a roasting pit…
Read Chapter One
---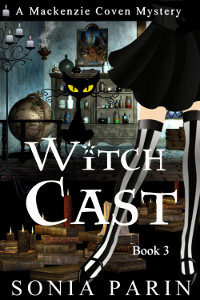 Witch Cast
A Mackenzie Coven Mystery – Book 3
Fool her once… fool her twice… This will be the third time…
Lexie can't believe she's been roped into performing her coven duty. Literally. She'll be on the stage, the one place she's been avoiding all her life. If her abysmal acting skills don't get her killed, surely mentioning the name Macbeth inside the revamped Garland Theater will.
There's a killer on the loose intent on becoming a serial killer doing away with anyone playing Lady Macbeth. Just her luck, she's landed the leading role.
As the incoming High Chair of the American Continent and all Circumferential Domains Pertaining to the Mackenzie Coven, Lexie is still wearing her training wheels, and while her gifts are awakening they are useless against the threat lurking in the shadows. Something… someone has charmed her and she's unable to detect danger.
It looks as if she is one performance away from playing host to a menacing shadow. It's already killed once. Somehow, she must figure out a way to capture it. If only she could see it…
Helping her deal with a ghost in denial, a shadow living vicariously, and a rogue witch is her new assistant, a super efficient Mackenzie Coven intern, but not everything is as it seems with her…
---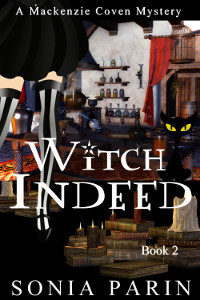 Witch Indeed
A Mackenzie Coven Mystery – Book 2
Mackenzie Coven rule number one. Do not lose your cat.
Lexie, aka Alexandra Elizabeth Mackenzie, the incoming High Chair of the American Continent and all Circumferential Domains Pertaining to the Mackenzie Coven (she really needs to come up with an acronym) has been asked to step up to the plate and attend a prestigious feline extravaganza at Chelsea Manor. The task is simple enough. Represent the coven, get herself and Luna, the cat which has as yet to decide if she'll stay with her or not, there in one piece meaning… no more crash-landing or leaving bits and pieces of Luna behind. Two out of three isn't bad. Lexie figures the rest will be simple enough until she realizes she's crash-landed in a room with a dead man in it – a man who'd had a fascination for stuffed cats.
There are only a handful of guests attending this exclusive feline soiree and they all have their eyes on Luna, but one of them also has blood on their hands.
If they killed once, they'll kill again.
Amazon Kindle Unlimited
---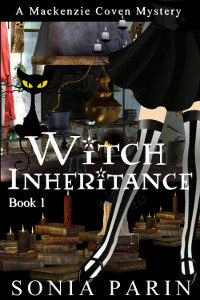 Witch Inheritance
A Mackenzie Coven Mystery – Book 1
Alexandra Elizabeth Mackenzie. Stop ignoring us. Speak the words. Make this right so we can be… Bright.
Lexie's birthday has caught up with her, as have her cousins, Mirabelle Louisa Mackenzie – High Chair of the British Isles and all Circumferential Domains Pertaining to the Mackenzie Coven – and Catherine Marianna Mackenzie, her down under cousin (If she has a title, she's not telling her). They've been sent to remind Lexie of her family obligations and also to give her a birthday gift. The type she can't return, refuse or exchange. It's her heritage and it comes with a job she didn't even apply for. It's actually more a way of life than a career and it comes with a snazzy new outfit only her cousins can see. Thank goodness for that…
Not surprisingly, Mirabelle and Catherine Mackenzie are short on details and time to explain. In fact, Lexie has less than two days to brush up on her skills and fly to England… at the blink of an eye. The Mackenzie Coven has been enlisted to assist with a rising concern at House St James. It comes in the shape of an inky black fog Lexie calls the menace. It might not be in corporeal form, but it's somehow managed to murder one St James family member. Now it's Lexie's job to make sure it doesn't strike again, but she's fallen under a spell. Suddenly she's tearing off her beloved denim jeans and Rock Hard t-shirt and donning bespoke designer dresses and sipping 'delish' champagne. Even her accent has changed and her cousins can't do anything about it because a covenant prohibits all three Mackenzie Coven witches from gathering in the house together. They must somehow circumvent the seal and guide Lexie through her first official task as a Mackenzie Coven witch and find the murderer before all the heirs meet their end…
Amazon Kindle Unlimited
---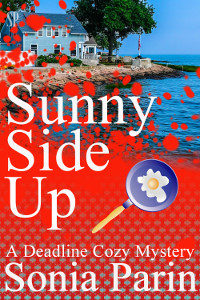 Sunny Side Up
A Deadline Cozy Mystery – Book 1
"He deserves to be murdered."
"Who said that?"
"Apparently, you did."
With her bitter divorce behind her, Eve Lloyd wants to relax and think about her next step. Paying her aunt, Mira Lloyd, a.k.a. Elizabeth Lloyd, renown historical romance author, a long overdue visit, she plans on spending a month on Rock-Maine Island lounging around and plotting the launch of her new life. Her ex-husband, however, has other ideas. As for her aunt… she's gone missing. And now there's a dead body to contend with and a murder weapon with her fingerprints on it.
A mantle of suspicion hangs over Eve and everyone she encounters has a reason to want her out of the way. Unwilling to leave matters in the hands of swoon worthy Detective Jack Bradford… only because it's her civic duty to provide a new perspective, Eve Lloyd engages the assistance of her new friend and fellow suspect, Jill Saunders. They both stumble their way through a long list of possible motives and suspects in a race to find the killer before either one turns into the next victim.
Clean read: no graphic violence, sex, or strong language.
---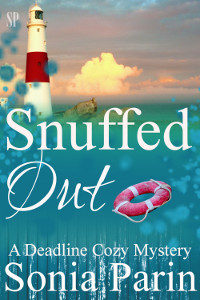 Snuffed Out
A Deadline Cozy Mystery – Book 2
Eve Lloyd, a death knell?
Eve refuses to believe her choice of words had something to do with inviting a killer to the island,  but just to be on the safe side, she agrees to avoid all use of any and all words related to killing.
However, it might already be too late…
Her run in with a local artist, Reginald Bryant Burns, has put her in an awkward position.
Trying to make amends, Eve resorts to bribery, but that only makes matters worse and now…
She's a prime suspect in a murder investigation.
---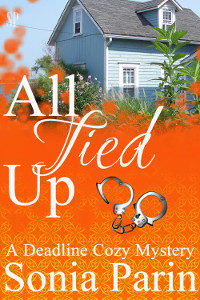 All Tied Up
A Deadline Cozy Mystery – Book 3
It's no accident. Eve Lloyd is a magnet for trouble.
On the brink of settling into an uneventful existence, Eve Lloyd turns her attention to a new venture. She's going to open an inn and she thinks she's found the perfect house for it. It should all be smooth sailing from there, but she's developed a knack for landing right in the thick of it. This time, she stumbles on a body in the least likely place and her fingerprints are all over the handcuffs found on the murder victim.
As the suspects list grows, and the dream of running an inn evaporates, she becomes a target of the killer's rage.
Despite trying to keep her nose out of other people's business, it seems the only way she can get her life back on track is if she sets a trap for the killer.
---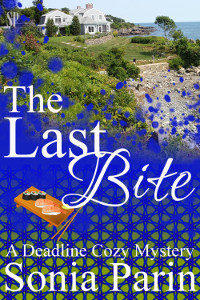 The Last Bite
A Deadline Cozy Mystery – Book 4
Eve Lloyd's childhood nemesis, Charlotte McLain, is getting married. Nothing will induce Eve to attend. Nothing except… blackmail.
From the start, everything about this wedding rings alarm bells for Eve. The location, the groom, the guests. The bride. But that's nothing unusual. The odds of everything going right are stacked in the bride's favor. There have already been several deaths on the island. Lighting surely wouldn't strike again…
When the groom suddenly dies, all fingers of blame are pointed directly at Eve. After all, she had opportunity and plenty of motives.
She's been framed and despite trying to keep her nose out of trouble, she's now been dragged right back into the thick of it. The list of suspects is extensive, but she's sure she can narrow it down to… at least a half dozen people.
---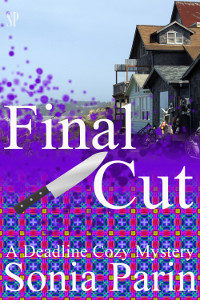 Final Cut
A Deadline Cozy Mystery – Book 5
"…What sort of business person would I be if I start killing off my guests?"
Eve Lloyd has settled into her new life in Rock-Maine Island and is about to open up an inn – a costly venture now that she has her heart set on getting an expensive custom made stove. Leasing her new house to a film director takes care of the extravagant expense. It should now be all smooth sailing. However, the director and movie star's endless arguing gives her a taste of what she might be in for when she opens the doors to the public. What if she gets an inn full of squabbling couples who use arguing as foreplay? But that is the least of her concerns.
When a body turns up… in her kitchen, Eve thinks she might have to forego her new stove and spend her windfall having the house exorcised. Either that, or she could advertise her inn as an ideal retreat for killers on vacation.
It doesn't help to have left her fingerprints on the murder weapon. Yes, she's a trained chef and yes, she knows how to use a knife, and yes, she might have said she'd do anything to get her new stove. But surely the police don't actually believe she's capable of killing someone…?
---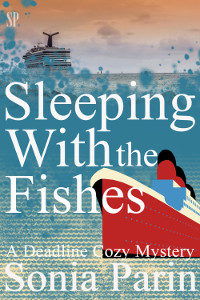 Sleeping With the Fishes
A Deadline Cozy Mystery – Book 6
There are 100 Carmen Miranda impersonators on board the cruise ship and they're all moving to the rhythm… Chica chica boom chic. Now there are 99 Carmen Miranda impersonators… and it's sink or swim for Eve Lloyd.
Eve is on a cruise with her aunt, Mira, and suffering from separation anxiety. However, she's made up her mind to enjoy the trip and, despite her reservations, she is willing to use anything and everything in her arsenal of personal inducements to ensure she makes the best of this cruise.
But on her first day, she discovers someone has gone overboard. At least, that's what the captain wants her to believe. Eve has had too many close encounters with killers and suspects foul play. Now she must tread with care because the killer's choice of weapon leaves no room for negotiation.
---
Any one of these books can be read as a stand alone…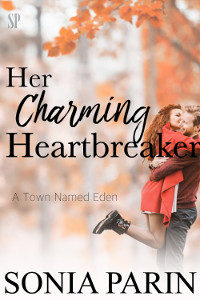 Her Charming Heartbreaker
A Town Named Eden – Book 1
When Theo Kendrick flies from L.A. to the small country town of Eden, Australia with a time sensitive task of finding his father's old flame, his attention is diverted by Eddie Faydon – the fiery redheaded, dart throwing, wild boar hunting co-owner of Eden's only pub, The Gloriana. Theo wears his halo on a crooked angle, but exploring possibilities with Eddie is one complication too many in his already hectic life. Besides, he's already been shuffled off to the second place podium when his fiancée fell in love again with her ex. He won't risk exposing his feelings again. But there are powers beyond his control at work in Eden. Eddie believes she's either being hounded by Murphy's Law or plagued by the disasters come in threes adage and has her sights set on a third disastrous relationship so she can finally have the happy-ever-after she craves. Trying to talk her out of getting her heart broken results in a bruised jaw, many tulips, a Beagle named Murphy and the threat of a visit from Eddie's double barrel shotgun wielding grandmother…
Amazon US / Amazon UK / Amazon CA / Amazon AU
---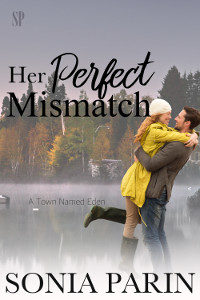 Her Perfect Mismatch
A Town Named Eden – Book 2
Mitch Faydon always plays nice, never hurting anyone, never making promises he can't keep, but now that he's been used, he's sworn to shake off the bad-boy of Eden reputation. It's time for everyone to see there's more to him than meets the eye. No easy task when you're known as a sweet talker who can convince anyone into doing anything, even if they don't want to, or shouldn't want to. When his particular skill set is called on to diffuse a situation, Mitch encounters the parking snatcher, Elizabeth Charles. The pretty strawberry blonde tourist is experiencing some issues. Her pride is on the line and her entire future depends on a Puff Donut that has reduced her to a whimpering mess. Before either one can come to terms with their new lives, they'll tackle anaemic looking omelettes, try to catch a rhubarb thief, go hunting for the ghost of Wilbur, and discover that love has a way of sneaking up even when you least expect it…
Amazon US / Amazon UK / Amazon CA / Amazon AU
---

Her Irresistible Troublemaker
A Town Named Eden – Book 3
Lexie Gardner's small life becomes smaller when her beautiful view is replaced by Darth Vader's pied-à-terre. Now wherever she turns, the hotshot developer responsible is there, taunting her with his easy manner and good looks. As hard as it is to resist him, Lexie's still getting over her near miss with her ex and solely focused on writing Lulu McGee's comic strip… and dealing with her brainiac sister who has crash landed on her sitting room sofa… not to mention her demanding parents—her decision to leave Eden and move to Melbourne instead of settling down with some nice country boy adding to their monumental disillusionment. Telling Jack she's over the whole dating game because the results don't justify the effort she puts in prompts him to suggest she date someone she's not interested in. Him. As the family screw-up, she's bound to get even that wrong.
Jack's not interested in another relationship. Since ditching his suit and tie job and being dumped by his fiancée, he's been busy recreating himself. For once, he wants to avoid bumpy roads and curve balls and all manner of obstacles and diversions—a big ask when he has several stepsisters to contend with and a father who's onto marriage number five. Now Lexie Gardner has taken up residence in his mind, every waking thought focused on her. By the time he realizes there's never a right place and time to fall in love, it might be too late…
Amazon US / Amazon UK / Amazon CA / Amazon AU
---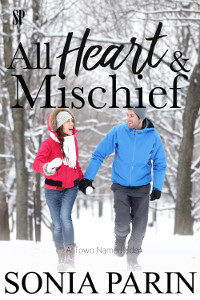 All Heart & Mischief
A Town Named Eden – Book 4
Joyce Breeland's traumatic childhood hasn't held her back. She's made a life for herself in the small alpine town of Eden and everyone in her life matters. Including Bradford Mills – the man who taunts her with his indifference. They have a good working relationship – he buys coffee from her, she sells him coffee, and no matter what she brews for him, she can't crack his calm exterior. Then everything changes. She's gone too far and now she suspects him of being a hired killer on vacation…
One day Joyce Breeland is a minx, the next she's parading around as a Nutcracker soldier, or a Christmas angel. Watching Joyce embrace life almost as if she wanted to give her past a middle finger salute adds to the entertainment value and has kept Bradford Mills relatively sane. He's waited a year to resume his career as overseas correspondent for a major newspaper. This isn't the time to stop avoiding Joyce. While going to her rescue has lowered his guard, he feels Joyce deserves someone who's good to the core and he only has sarcasm and cynicism to offer her. However, he knows his uncle lured him to this small town for a reason. When he realizes what it is, his life will never be the same again.
Amazon US / Amazon UK / Amazon CA / Amazon AU
---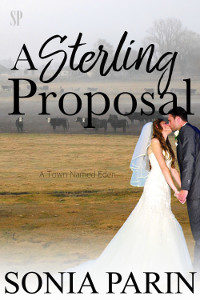 A Sterling Proposal
A Town Named Eden – Book 5
New Yorker Zoe Wilde is determined to bond with her half sisters and finally have the family she's missed out on. First she has some loose ends to tie up; dispose of building she's inherited, restore the Wilde's shredded reputation, win the hearts of the townsfolk of Eden and convince Luke Sterling to buy her out. When she takes a miniature poodle and an alpaca to a cattle dog trial, local cattle baron Luke Sterling knows life will never be the same. However, he doesn't think she'll last longer than a week living in the small country town, especially if the thunderclouds that have been hovering over the horizon roll in. Her roof leaks. A coffee overdose, some goats and a hankering for a baseball game prove Luke right, Zoe doesn't belong in Eden. But springing to her rescue at a fundraiser, his feelings are exposed prompting him to break the stalemate between their families and prove Zoe's found a place in his heart.
Amazon US / Amazon UK / Amazon CA / Amazon AU
---
Bachelor Undone
Finders Keepers – Book 1
Markus Faydon, co-owner of Eden's only pub, The Gloriana, doesn't need the mathematical skills of a genius to figure out the equation. Six months plus no dating equals Hannah's arrival in Eden. Everyone knows he has the hots for The Gloriana's chef but the last thing he wants to do is put himself on public display or spook her into leaving. However, one reckless act forces him to re-evaluate his need for discretion but while he's prepared to lower his guard and expose his emotions, he discovers Hannah has secrets and she's going to do everything she can to hold on to them.
She's been dumped, had her heart stomped on and crushed and her career derailed. Yet Hannah Melville has picked herself up and dusted herself off. Now her past has collided with her new life and triggered such erratic behaviour even she doesn't recognize herself. Worse, she could be up for a sexual harassment suit. Actually, she has a bigger mess to sort out… her feelings for her boss, Markus Faydon, the man who's been avoiding her since she landed in this small town. One kiss is all it takes to pave the way for another and another and lead her straight to facing the ultimatum she's been avoiding. It's all or nothing. And that means exposing the ugly truth about her past.
Amazon Free with Kindle Unlimited
---
SaveSaveSaveSave
SaveSave
SaveSaveSaveSave
SaveSaveSaveSaveSaveSaveSaveSaveSaveSave
SaveSave
SaveSave
SaveSave
SaveSave
SaveSave